Bongmusa Mthembu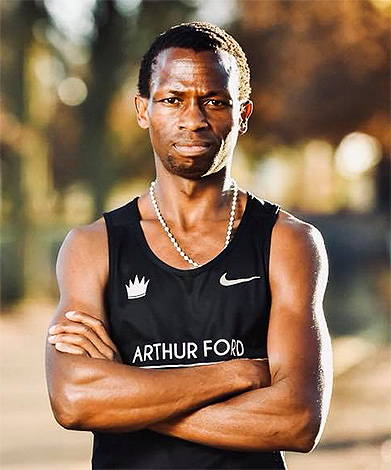 ABOUT BONGMUSA MTHEMBU
Professional Runner
#LETS CELEBRATE EXCELLENCE!!!!!!!
Bongmusa hails from Bulwer (KZN) in the rural village of Nkwezela. Bongmusa is one of the nine children. He is currently a breadwinner at home. His upbringing is typical of any boy growing up in the rural areas, he was expected to carry chores that are assigned to a boy at home. One can argue that this could be where he learnt and shaped his resilience and humility which he famously known for in the sport of ultra-marathon.
Running career: After finishing his matric, he decided to look for a job. This was mainly due to no resources and money to study further at a tertiary institution. Pietermaritzburg presented the "greener pastures" opportunity, he therefore packed his bags for the world of uncertainly to look for a job. He briefly worked for a construction company as a brick layer and concrete mixer but later on set his sight on road running. The realization of his talent came to the fore over a decade ago when he won his first marathon and this gave him hope that he could make some living out this sport. From that year he decided to focus fully on road running and give it a chance., he therefore gave up his job.
Notable highlights: Three times Comrades Marathon champion with a total of seven gold medals. His PB at Comrades Marathon is 5:26.
He has also featured prominently at TWO OCEANS Marathon, receiving THREE golds medals. His PB is 3:10
He currently holds the SA record over 100 KM distance. Bruce Fordyce previously held this for a number of years.
32Gi products that he loves: Bongmusa during hectic training months relies mostly on 32Gi Endure, 32Gi Hydrate (his favourite is the Raspberry) and 32Gi Recover, Chocolate Flavour as this is what helps him recovery to ensure he can get the ultimate out of his training.
On race day, Bongmusa uses 32Gi Recover and 32Gi Endure on route.
LATEST ACHIEVEMENTS

2012 position 5 Two Oceans Marathon
2012 position 2 Comrades Marathon
2013 position 4 Legends Marathon
2013 position 1 Sani Stgger Marathon
2014 Position 1 Comrades Marathon
2015 position 2 Legends Marathon
A TIP FROM BONGMUSA MTHEMBU
"I would like to advice up coming athletes to start with the basics not to rush to marathons or run for money.They must train hard the results will come."