Daniel Rowland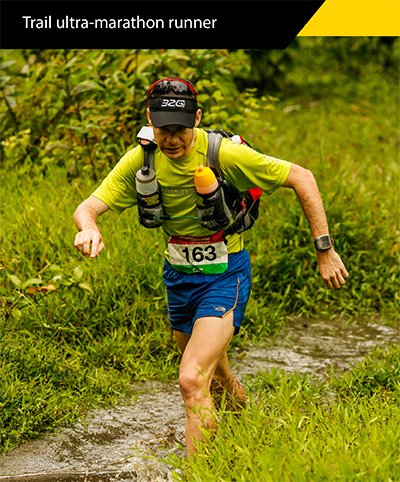 ABOUT DANIEL ROWLAND
Professional Trail Ultra-marathon Runner
Daniel took up trail running when he lived in Alaska and has since raced in the Atacama Desert, the Amazon Jungle, the Andes and the Alps. He now lives in Switzerland where he does most of his training in the Jura mountain range and focuses on mountain ultra-marathon trail races.
ACHIEVEMENTS
Trail Vallée de Joux 54km (Switzerland), 2015 - 3rd
Humani'Trail 56km (Switzerland), 2015 - 3rd
Ultra Trail du Barlatay 87km (Switzerland), 2015 - 5th
Jungle Ultra 250km (Peru), 2014 - 1st
Kalahari Augrabies Extreme Marathon 250km (South Africa), 2013 - 1st
Atacama Crossing 250km (Chile), 2013 - 1st
Ruta del Condor 50km (Chile), 2012 - 1st
Susitna 100 Race Aross Frozen Alaska 160km (USA), 2011 - 4th
A TIP FROM DANIEL ROWLAND
My focus is ultra-marathon races so I rely heavily on the Endure and Recovery product ranges. In my races and long training runs I look forward to every time I take on nutrition and I favor the Foodbar and Chews. For me it's great to mix the flavors and textures of these products and I like having "solid" nutrition to use rather than just drinks. In my longer races I also drink Recover from my crew in the aid stations and take Trumag every four hours. In my training I take Trumag every day (twice a day during big training blocks) and use Recover after every key training session. The 32Gi products are a fantastic complement to my daily diet and indispensable during races.