Jean Biermans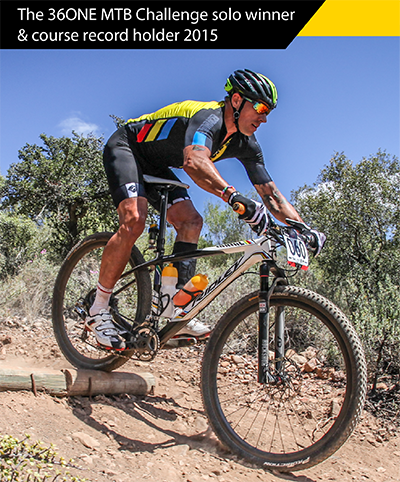 ABOUT JEAN BIERMANS
Elite Mountain Biker
Name: Jean Biermans
Nickname: Jeankie Powerrr new The Machine in SA
Adress:Hasselt Belgium
Date of Birth: 20-06-1974
Birthplace: Bonn BRD
Weight: 79/82kg
Height: 1.81m
The Unstoppable Jean Biermans
The following story is almost unbelievable, but we assure you, every word is one hundred percent true. In 1991, Dutchmen Jean Biermans was hit by a bus and dragged for more than15 meters. The lower part of his left leg was essentially torn off, and doctors came terrifyingly close to completely amputating his leg. Luckily for Jean they decided to attempt to fix it. "It took three operations but the doctors managed to repair my leg. This was no easy task because every muscle and tendon around my knee were ripped completely off. My skin and most of the muscles were gone as well. The surgeons needed to take skin from my upper legs on both sides to use as new skin for my lower leg."
Following multiple rounds of reconstructive surgery, the then 17 year old Jean had to learn to walk again. It took two years of day in, day out practice and physical therapy before he was able to walk without the use of crutches.
As part of his rehabilitation Jean spent a lot of time in the gym to strengthen his leg muscles. "The gym was fine, but after 4 years I wanted to do something else", Jean explains. "I started mountain biking for fun, and for a break from the gym, and it wasn't long until I was riding with a group of guys on Sunday rides. They thought that I was pretty fast and encouraged me to give competitive racing a try." In his first race Jean, whose nickname is Jeankie Powerrr, was lapped three times in the one hour race. But Jean always finished what he started, and he persevered - just as he had done in his recovery.
His results continually improved in mountain bike events and Jean even started road racing. Jean did well on the road, but he was a dirt guy at heart, and it wasn't long before he returned to his mountain bike roots. "My first year back in the field I did some century type events and a friend and I even started our own team. After a great year with some great results I was invited to race for Bakker racing Team." Jean did well and finished second in the Dutch Bike Marathon Champs in 2007, 16th in the European Master Champs, and 23rd at the World Championships. "I even won the Univega 24hours with a mixed team, and scored a 31st place at the Bike Trans Alp race. 2008 wasn't my best year but even then I won Willingen Bike Marathon for the disabled and came third at the Bart Brentjens Bike Marathon. Despite his clearly visible disability Jean is completely accepted in the European mountain bike community. Team mates don't feel sorry for him, and nor do his competitors. Everyone holds Jean in the highest regard because of his incredible achievements.
Jean is focusing more and more on distance riding and 24 hour races. First place
finishes in the 24Hours Rad am Ring MTB with the 4 man team of the Brentjens MTB team and in the Taunustrails Marathon, as well as his victory in the Sixxxxx Race 6 Hours at Langdorp in 2009 are the product of Jean's extraordinary focus. "The longer I'm on the bike, the better I feel. For example in the last 15k of the 2010 World Championship Marathon race I passed three riders and left them in the dust", Jean says with a big smile on his face. "I finished 25th overall, and 9th in the Master 1 Category. Cycling gives me so much satisfaction and to show the world that anything is possible, despite having a disability."
LATEST ACHIEVEMENTS

​Previous 24hr World MTB Marathon Champion & The 36ONE MTB Challenge back to back 2014 & 2015 solo winner and course record holder.
A TIP FROM JEAN BIERMANS
"Champions aren't made in gyms. Champions are made from something they have deep inside them-a desire, a dream, a vision. They have to have the skill, and the will. But the will must be stronger than the skill."