Jenna Challenor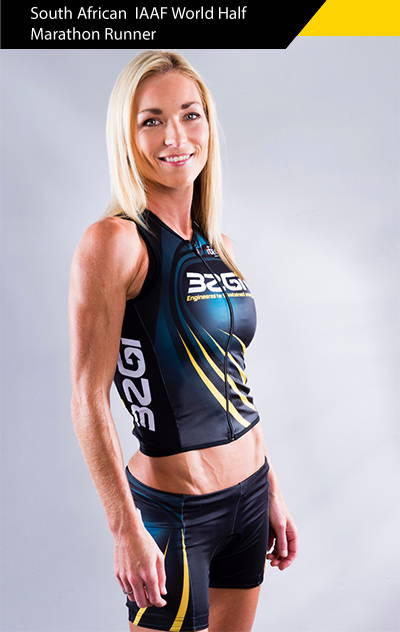 ABOUT JENNA CHALLENOR
Professional Runner
Jenna Challenor is a full time mom and athlete - running is her passion, sport and sanity. She competed as a semi-professional athlete for 7 years, between running her own photography business and raising three young daughters. After the birth of her third daughter in June 2012 ("babies done, now to run"), Jenna focused on improving her running to achieve certain goals important to her as an athlete and one of these was to represent South Africa and thus she took on running professionally (full time). In February 2013 she was selected to represent South Africa at the IAAF World Half Marathon Championships held in Copenhagenon 29 March 2014, where she ran a personal best time of 74.19 and placed 47th overall.
In 2016 she ran the Nagoya woman's marathon, and ran an Olympic Qualifying time of 2.37.12. Unfortunately due to a chronic knee injury which led to Surgery she was unable to attend the Olympics. In April 2017 she made her ultra marathon debut at Two Oceans Ultra Marathon (56km) and was the first South African and second overall. In July 2017 she won and broke the record at the Mauritius half marathon. On the 6 August 2017 she represented South Africa at the World Athletics Champs in London for the marathon.
What products does Jenna typically use? Jenna has always loved 32Gi products and vows by them for training and racing. Her favourites are definitely the raspberry race, Recover Chocolate, Hydrate Raspberry and all the Gel flavours.
She trains with 32Gi Endure and 32Gi Hydrate on all of her long runs, and uses 32Gi Race and 32Gi Gels when she is racing. Her go to every day "SURVIVAL" is the 32Gi Recover Chocolate. Jenna can feel a huge difference when she does not use it post training/racing. Her recovery is not as efficient and when using the Recover she can feel the difference in the next training session.
PERSONAL BEST
5km:   16:35 (South African Park Run record)
10km:   34:12 (Cape Town Spar Ladies 2015)
21.1km:   74:19 (Copenhagen ­– March 2014)
42.2km:   2.41.19 (Mossel Bay- September 2014)
I have set myself the following milestones to achieve these goals:
International Marathon, May 2015 [Goal: faster time]
Two Oceans Ultra (56km), April 2016 [Goal: Top 5 finish]
Two overseas marathons, 2015/2016 [Goal: Qualify for Rio Olympics]
Comrades Marathon (90km), June 2016 [Goal: First SA lady]
Rio Olympic Marathon, August 2016 [Goal: Represent South Africa]
Jenna Challenor Blog: http://www.jennachallenor.co.za