Team Karan Beef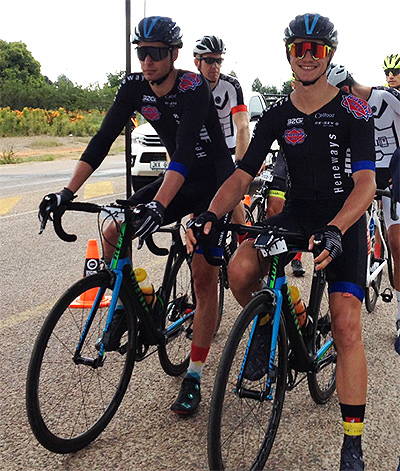 ABOUT TEAM KARAN BEEF
Heneways
Team Karan Beef/ Heneways is a group of cyclists who have been chosen to ride in the team and are required to train together to compete in bicycle races whether amateur or professional – and the supporting personnel. Cycling is a TEAM sport, not only does team mean we work together, it also means giving back to the sport and our sponsors together. The team was started in 2010 with 8 riders and has grown to 18 riders in 2018. 32GI has supported and been with us since the start of 2010. The aim of the team is to give back to cycling and sponsors so we can race our bicycles and have FUN doing so. I, Dean Puntis manager of Team Karan Beef / Heneways have been involved in the sport and racing for over 30 years and felt it was time for me to give back to the sport. In my personal opinion, giving back to the sport is by taking new and young talent and developing them into Racers and creating a platform for riders to develop into somebody and not just a number in the world. To take the sponsors and show them to the world and how amazing there companies are creating awareness. Racers and Spectators often ask me how you go about having such a well-liked team in the sport. It is quite easy I say, you have respect for your fellow races, your Team and your team mates. Race your bike with a smile and have fun doing it no matter how hard or where you finish in any race. Just have fun doing it. It is a receipy that just seems to work.
 
Composition
While riders form the core of a team, a top team also has personnel who support the racing and training. These include
A manager, who oversees the team's commitments, sponsorships, and general operation.
Captain, is someone that talks and organises his team in and during the race.
Categories; Elite men, VA men/woman, VB men, junior men.
Supplements; 32GI.
Coaches, each rider has his own coach but we do try use the same coach for each category.
Doctors, responsible for riders' THE TEAM HAS A NO DOPING POLICY IN PLACE.
Therapists, responsibility of each ride.
Family, with out there commitment no rider can train or race at the level needed
It's the team manager's responsibility to look after and get sponsorships and every rider has to do marketing, and communication on twitter and Facebook.
 
Levels of commitment
All riders, top-level professional and semi-professional riders are registered with the UCI which enforces rules and a points system. The rides on the team race in there various registered categories.
 
Road cycling
Team members have different specializations. Climbing specialist which grind away on hard inclines; sprinters save their energy for sprints for points and position; Time trails which keep speed high over great distances.
Each team has a leader, or captain, generally reckoned as the team's best rider. The captains have the most media exposure and best chance of winning races. The rest of the team's members are Domestics or secondary riders, who shield the captain from opponents and deliver food and drinks to him. However, any team member is allowed to go for a stage win.
Teams are generally sponsored in exchange for advertising on clothing and other endorsements. Sponsorship ranges from small businesses to large businesses. 32GI has been with the team from the start and supplies all supplements and health and eating plans.
 
Results
The team has numerous wins in each category every year and continues the drive to win and have fun doing it. The stand out race for the team is the PPS Panorama cycle tour which Team Karan Beef/ Heneways won in 2017 and 2018 overall.