Team Lifecycle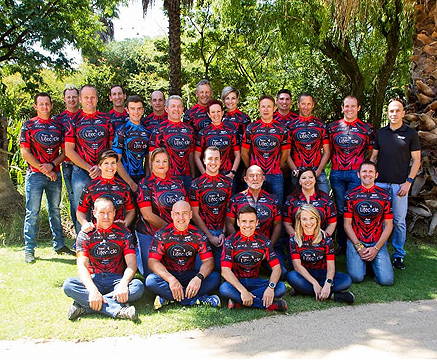 ABOUT TEAM LIFECYCLE
The team was established by Gert Nel and Annelize van Zyl in 2017. This was Annelize big dream to have her own cycling team. They had a shared vision to start a cycling team that would stand out in the crowd, with people that will live and breathe the image that every cyclist wish to be.
TEAM LIFECYCLE is now in its 2nd year of existence, and we have had many successes in 2017 & 2018 Please help us grow even more and become a team to be envied.
The team has expanded from 11 members in 2017, to 25 members in 2018, with all 25 members doing road and mountain biking. 12 members also run (trail and/or road running) and 4 members currently also take part in triathlons.
Team Lifecycle© is a small group of passionate cyclists that spend most of our free time and energy on our passion, to become the best possible competitive individuals and team that we can be with the limited time and resources at our disposal.
We like to thank each and every one who keep our dreams alive, and our passions for cycling that continuously growing.
TEAM LIFECYLE
TEAM OWNER & MANAGER: ANNELIZE VAN ZYL
CONTACT DETAILS: 0837761141
EMAIL: vzyla@telkom.co.za