Regular price
R 369.95 ZAR
Regular price
Sale price
R 369.95 ZAR
Unit price
per
Sale
Sold out
Share
View full details
PROVEN AND TESTED POWER ENERGY PORRIDGE THAT PROVIDES YOUR BODY WITH THE BEST PRE-RACE FUEL POSSIBLE! READY IN 2 MINUTES, NO COOKING REQUIRED.
For racing and training, the meal is a 9:1 complex carbohydrate to protein blend. Consume before exercise to maximize your energy levels and top out glycogen stores. The meal is low in fibre and fat to ensure digestive comfort and maximum energy provisioning.
MEET 32Gi® PRE-RACE MEAL
Expertly Crafted Pre-Race Meal comes in Decedent Chocolate and Vibrant Vanilla.
KEY ATTRIBUTES 
Power & Performance Driven - formulated With multiple high quality complex carbohydrates to maximize energy levels.
Right Amount of Protein - with just enough added to ensure energy stability and aid in delaying the onset of muscle fatigue.
Low in Fibre & Fat - to reduce the risk of gastrointestinal distress to ensure digestive comfort.
Low in Sugar - designed to avoid triggering an excessive rise in blood sugar.
Super Easy on the Tummy – designed to drastically reduce the risk of gastrointestinal distress. 
As Easy As 1 ,2 ,3 - just simply add water or your favourite Milk 1-4 hours before your training or race.
Zero Banned Substances - we are fully compliant with WADA standards.
No Artificial Additives Promise - rest easy knowing that 32Gi® Pre-Race Meal has no artificial sweeteners, flavours or colours, AND is...
INGREDIENTS & NUTRITIONAL INFORMATION
Who Pre-Race Meal Will Benefit
Endurance Athletes
Adventuring
Gym / Classes
Ball / Racquet Sports
Aquatic Sports
Family Friendly
WHEN TO TAKE? 
HOW TO TAKE IT?
Porridge
Add +- 120ml water (hot or cold) or milk, and mix to desired thickness. Can be eaten as is, or add a little honey, peanut butter, and or your favourite fruits (e.g. berries, bananas, etc.).

Shake
Place in a shaker or blender with water or your favourite milk. Shake or blend and consume.
THE SCIENCE BEHIND OUR REVOLUTIONARY PRE-RACE / TRAINING MEAL.
The Right Carbs are King (and a touch of Protein)
Every meal is important! But getting your pre-meal wrong can ruin a session (or even worse... a Race)! The main purpose of a Pre-Race Meal is to top up your system with glycogen (immediately accessible energy during high intensity efforts), most especially if it precedes a morning race. At least 80% of the calories you consume in your Pre-Race Meal should come from complex carbohydrates. Keep your protein intake preferably plant-based and moderate, and your fat and fibre consumption very low. These nutrients take away from the efficient processing of the energy system and increase the risk of gastrointestinal distress.
The big thing to remember is that carbohydrates are the fuel for high-intensity efforts. So if you're racing or getting ready for an interval workout, you want to start with high carbohydrate availability. You are already carrying more than enough fat to provide energy for exercise, and protein is fuel for recovery and adaptation, but does not significantly contribute to energy during exercise (but is required to aid in delaying the onset of muscle fatigue.). Your carbohydrate tank is pretty limited. You can store about 400-500 grams of carbohydrates in your muscles and liver, enough for 1-3 hours of exercise (depending on intensity). Topping up these stores and ensuring adequate blood glucose levels (especially in the morning after sleep) is the main goal of your Pre-Race Meal.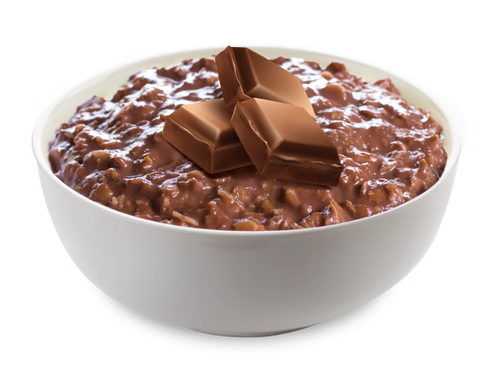 Low Fat & Fibre (Science doesn't lie)
Don't get us wrong, fat & fibre are an essential part of your diet. But you don't want too much of them in your gastrointestinal tract while you're in action. Stomach cramps, bloating, and diarrhea are the not-so-fun signs that these foods are not your pre-session friends, because they take so long to digest. My Sports Science, founded by world renowned Asker Jeukendrup, suggests that you keep fat low in the last 2-3 hours before an event or session.
Daughter's breakfast
She has been using it for sometime now and is very happy
Breakfast sorted
Been using it since it launched as I was looking for something more sustainable. Very happy so far, use it before all my long runs, including 2 marathons. Easy on the tummy, filling but not heavy... and along with the Endure Tabs/Sports Chews during a race, I don't get hungry and finish strong and smiling. Happy days!
Sustaining the Wolf
Tried the demo packet at one of my 21.1km races and pleasantly surprised how well it kept me till the end. I was fresh and strong, this Pre-Race is now a must for preparation work! Race Day or LSD, this will be on the list from now on! Stunning job 32Gi, you guys nailed this one! Thank you for the hard efforts and work put into this. It is successful for sure.
The "go to" tummy filler
Tried it on a 100km training ride and for the first time did not get hungry around the 70km mark, in fact, wasn't even really hungry after the ride. Definitely my best 100km effort and felt great after the ride that made me decide to make it my "go to" meal before any ride. I also suspect that the sustained energy should make it my only feed for shorter rides, but I'm still experimenting with different efforts.
Pre Race Meal
A week ago I used the Pre Race Meal on the morning of a 50km run. One serving kept me sustained throughout my run. In the past I would get hungry 20km into a Race but not this time. No gutt issues 🤸‍♀️Thank you 32Gi for yet another good product 👏. Best pre race meal.
DELIVER ANYWHERE IN SOUTH AFRICA

FREE SHIPPING ON ORDERS OVER R850

QUALITY CERTIFIED

30-DAY MONEY-BACK-GUARANTEE